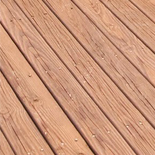 Our popular Premium (mixed Clears) Decking has either a grooved grip-tread profile with a Bandsawn face, or Smooth-face on both sides. Regular sizes are 100mmx32mm or 100mmx25mm, or we can custom-machine your own profile/size to suit.

We also have Kwila Decking available.
Download the PDF for more information on our Building Product Information Sheet Decking Boards.
Building Product Information Sheet Decking Boards 13Nov2023.pdf (198 KB)